Get ready to come with us to make the Carros de Foc, a classic among classics in the Pyrenees. Our guides will make you live an incredible experience in a dreamful environment
It all started in the summer of 1987, when some guards in the area spontaneously decided to go around the National Park of Aigües Tortes i Estany de Sant Maurici in a single day, just trying to do a simple courtesy visit to the other shelters.
This first visit was followed by others and in the same spontaneous way the name of Carros de Foc was also born.Even today, after so many years, we do not know exactly why or who was the inspiration for such a name.
Over the years the route has become the great classic of the Pyrenees, a must-see for all mountain lovers. The spectacular beauty of these landscapes is the only responsible for the thousands of people who travel its trails and crown its mountains year after year.
It is an activity for people with a good physical preparation.
The starting and ending point of the route will be in the little town of Espot. The total lenght of the route is about 75km and about 9000m of accumulated difference in altitude. During the stages we will visit high mountain lakes, spectacular peaks, a filmlike environment. Without a doubt a route that will surprise you for its spectacularity and beauty.
Day 1: Espot – Sabroredo refuge
Distance: 17 km — Elevation gain: 952m↑ and 417m↓
Day 2: Sabroredo refuge – Restanca refuge
Distance: 13,2 km — Elevation gain: 875m↑ and 1150m↓
Day 3: Restanca refuge – Estany Llong refuge
Distance: 15,5 km — Elevation gain: 1289m↑ and 1084m↓
Day 4: Estany Llong refuge – Josep Maria Blanc refuge
Distance: 18 km — Elevation gain: 1155m↑ and 825m↓
Day 5: Josep Maria Blanc refuge – Espot
Distance: 17,8 km — Elevation gain: 652m↑ and 1.575m↓
Mountain boots (high top to protect the ankles), 3-layer technical clothing (raincoat, fleece and thermal shirt), gloves and hat, 30-40L backpack, waterproof backpack cover, sleeping bag and towel.
Sun protection: sunglasses, sun cream, lip protection and cap.
Safety material: first aid kit (possible bottles, personal medications … etc), frontal light with spare batteries and mobile with charge.
Planning, preparation and possible modification of the route depending on weather or other local factors.
Registration management.
Complete route with a qualified mountain guide.
Full board accommodation in the mountain shelters (accommodation, dinner, breakfast and picnic for the next day).
Accident insurance for activities carried out in the natural environment.
Travel to Espot, extra consumption in the shelters (use of showers, extra drinks, etc …).
Expenses caused by the abandonment of the route by the client (except accident).
Expenses caused by changes in the route for security reasons (transfers, changes in shelters …).
Carros de Foc pass card. If you are interested, please tell us when making the reservation (official price: 30 euros).
Do you dare to combine it all?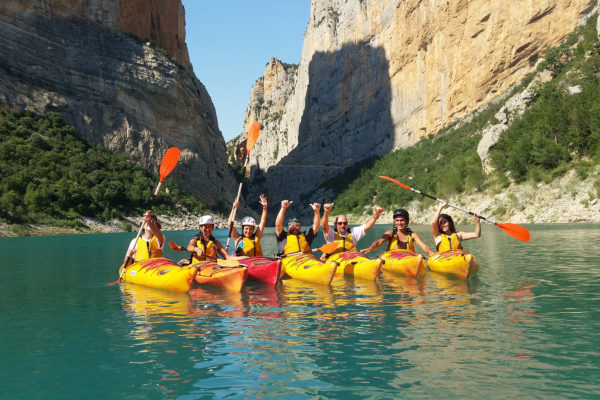 Kayaking + Accommodation
Are you looking for accommodation in Àger Valley? We have what you need! Visit Congost de Mont-Rebei in kayak and stay in our family hostel.
From 39€/person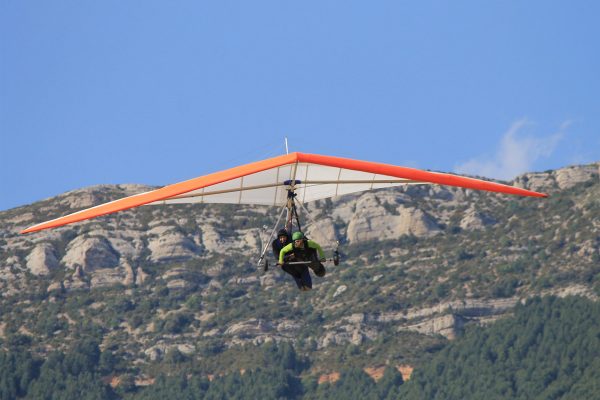 Hang gliding + Accommodation
One of the most exclusive adventure sports is hang gliding. Àger is one of the few places to practice this sport. Come and hang gliding with us and don't worry about anything with our offer of hang gliding + accommodation.
From 121€/person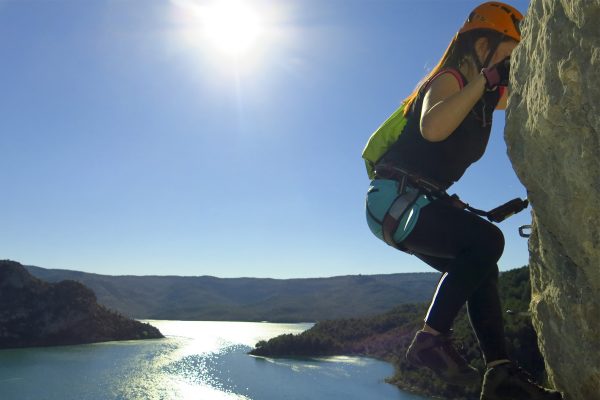 Kayaking + Via Ferrata
What do you think about enjoying the best views of Congost de Mont-Rebei? It is possible with us! We kayaking to Congost de Mont-Rebei and we will stop on the way to make the Via Ferrata with the best views of Montsec. You can do it by your own or with our professional guides, so you don't miss anything.
From 38€/person